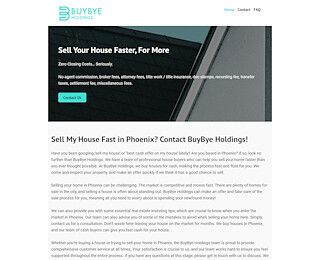 Selling your house could be quite the frustrating undertaking. A lot of people have compared it to filing bankruptcy or divorce, and with good reason. Curiously, most people that put up their homes for sale need to do so urgently. However, finding the right buyer at the right price is never an easy task. Homeowners have the option of waiting for years for the right buyer to come along or selling their homes at a price that's way below the actual value. But what if there's another option available? What if it's possible to sell your home fast and still get top cash for it?
Sell your home to BuyBye Holdings
If you're looking for the best well to sell homes fast, BuyBye Holdings is the company you should get in touch with. You're probably starting to think that this is yet another listing company that promises heaven on earth but falls short of the expectations when it's time to deliver. We're glad to inform you that your thoughts couldn't be further from the truth. BuyBye holdings is not a listing company. Instead, we are investors with a great deal of interest in the real estate market. We ensure home sellers can get top dollar for their houses almost instantly by buying directly from them and paying in cash!
A summary of how it works
We understand that our approach to the real estate market is different from what many are used to. But our goal is to ensure that homeowners can sell their home fast whenever they wish to. Here is a quick guide on how we operate:
Sellers pick the closing date
Yes, you read that right. Since your wish to sell your home fast, we allow you to pick your desired closing date, and we work with you to ensure you get your money by that date. You no longer have to wait for months or years before the listing agent contacts you that a deal has finally been brokered.
Zero closing costs
When you sell your home fast to us, you're selling directly to the buyer. Thus, there's no agent commission, broker fees, attorney fees, title work/insurance, doc stamps recording fee, transfer taxes, settlement fees, miscellaneous fees, etc. What we agree on is exactly what you get!
No hidden costs
Our home buying model further ensures that sellers do not have to pay any hidden costs, transfer taxes, escrow fees, commission, or legal fees.
No repairs
Unlike other listing agents that encourage you to repair your home before selling, we prefer to buy the house as it is. You do not have to start looking for financing options to repair your home and keep it in good condition for potential buyers.
We pay in cash
We are only able to help you sell your home fast because we pay in cash. This is a welcome relief for many homeowners that have gone through the harrowing experience of waiting for many months for the bank to approve the prospective buyer's request for financing. Often, these requests get turned down, and they have to start all over again.
Are you excited at the prospect of selling your home fast and getting your cash instantly? Get in touch with us at BuyBye today. Our sellers get to pick their desired closing date, and we pay in cash as soon as the negotiations are over.
BuyBye Holdings
(480) 201 5533
44109 N. 47th Ln
Phoenix AZ 85087 US