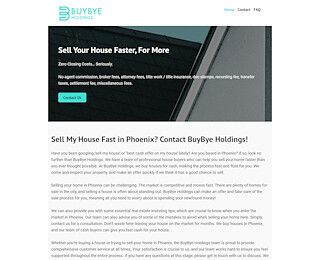 Sell Home Direct: the Best Choice to Get Money for Your Home
Your house is undoubtedly one of your main assets. However, at some point, circumstances may occur when you need to sell your property. The problem is that a traditional sales process can become a real challenge.
There are a variety of procedures, costs, and time involved, and the need for money is still there waiting. Fortunately, there is an excellent alternative: making a direct sale. It is essential that you know why this is the best option for you, and where you can make an extraordinary sell home direct.
Why Choose Home Direct Selling?
The real estate business is much more complicated than it seems. From an economic standpoint, the seller must make a variety of investments. These include home improvements, upgrades, payment of a variety of fees, inspections, and taxes.
Besides, it's a time-consuming activity. You must show the house, do open houses, and do a lot of negotiations with potential buyers. If you hire an agent to ease the burden, this will involve paying commissions (less money for you).
Direct selling is a simple process if you choose the right counterpart. Someone may offer you immediate cash for the house, but you run the risk of being ripped off. On the other hand, when you work with companies dedicated to buying homes as they are, you can get a direct deal without waiting, risks, and delays. This way, you can enjoy your money in no time, with the best possible deal in the real estate market.
Trust Buybye Holdings: the Best Direct Home Buyers
If you need the money and want to sell your house quickly and safely, Buybye Holdings is the option for you. We are a group of professionals focused on the business of buying homes as they are, and we offer you a simple and reliable system.
With us, you will avoid a variety of tedious procedures, tax payments, commissions, negotiations, and headaches. The process is simple: we will evaluate your property as it is today, and then give you the best deal possible. If you accept our proposal, in no time we will pay you in cash, without any additional or hidden costs.
You will no longer have to wait for a buyer, an open house, or for your real estate agent. You can also forget about repairs, inspections, or having to lower the price because of the general conditions of the house.
Also, you will enjoy other value-added services as a customer. These include our free local moving offer so that you can enjoy your new destination as soon as possible. And if you still don't have a place to move, we'll help you find the right place through our partners, the best realtors in Arizona.
Trust the Best!
If you are ready to get the best cash deal for your home, we are prepared to do business. Resolve the sale of your home quickly and stress-free, with the best professional service, and dealing directly with the buyers. Buybye Holdings is your best option for a successful and satisfactory sale. Call or contact us; we will be happy to help you.
Sell Home Direct
BuyBye Holdings
(480) 201 5533
44109 N. 47th Ln
Phoenix
AZ
85087
View Larger Map